WANTED PATRIZIO PILATI
First Edge has a full book on him for:
Fraud, using other companies to obtain credit.
(this man is a very good liar be very careful)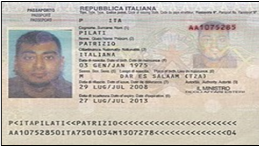 Good Day Sir,
I have just come across your website and I wish I had known about it 3 weeks ago. The snake that that man is, is unbelievable.
He has cost me just over $12 000 in flights, accommodation, food and sorts.
He said that we needed to take Industrial diamonds to Zanzibar for him and that he will pay immediately. we were then told the transfer had been done, yet we are still waiting for that.
Something needs to be done to stop this man. Kaylan Grover Cell : 073 486 4621Skype : kaylan.grover
Subject: Ptrizio Pilati
He is now operating under a company from Dubai, and Australia with A Partner by name Of Alan the Company goes by the call letter NTR Nexus Technologies & Resources
WANTED
ALIDA DU PREEZ
First Edge has a full book on her for: Fraud, using other people identity to obtain money
(this women is a very good at scamming be very careful)
Bad Email: alida@bahatiyetu.co.za Bad Email: alida.dup@hotmail.com
skype: bahatiyetu
Tel: +27 (0)31 916 7917 Mobile: +27 (0)72 651 7578
Address: 19 ILLOVO BEACH ROAD, ILLOVO BEACH 4126, SOUTH AFRICA